Planning The Perfect Wedding Reception Menu
Planning Your Perfect Wedding Reception Menu doesn't t have to be a a blasé sit down dinner based on old traditions. There are unlimited options for your wedding menu. Your wedding planner and caterer will be there to help guide you when you're making your food choices, but here are a few ideas to get things cooking! Incorporate childhood favorites with new faves with your favorite comfort foods. Who says mac and cheese can't be fancy? Try a "do it yourself" mac and cheese bar!
Keep it local and seasonal. Not only will this reduce your overall food cost, but it will ensure that your guests get a guaranteed fresh and high quality meal. Look for caterers that source locally and organically.
Think about the atmosphere you want to create with the food you're serving. Will you be having a lot of speeches? Consider having food stations or sit down dinner where your guests can sit comfortably and listen to everyone's speech.
Let your food set the mood
How long is your reception? Think about serving a passed appetizer as a midnight snack. If you have a crowd that loves to dance, keep the food light! If your crowd likes to wine and dine go crazy with multiple courses paired with wines
Let's get things Cooking!
Sit-Down Dinner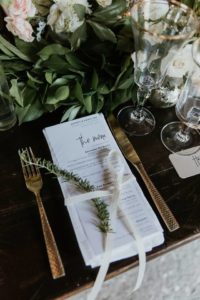 Who should choose it: Couples celebrating at a venue , club, or ballroom, as well as oenophiles who want to pair each course with wine.
Who should avoid it: Party animals. Dinners take time―spent eating, not dancing or clinking glasses with anyone beyond your table.
What to ask: The real price difference between seated dinners and food station's . You may assume plated dinners are pricier, but often they are not, because the caterer knows exactly how much food to order and prepare, whereas food stations have to accommodate multiple trippers.
Food Stations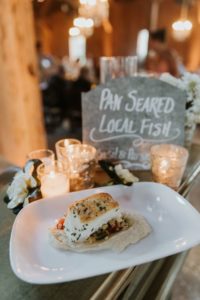 Who should choose it: Those who want to offer several entrée's. Planning a day wedding? Brunch dishes like muffins and fruit platters look lovely on a food display , and omelets can be made to order.
Who should avoid it: No one, it's the " New Wow Thing!
What to ask: How long the food will sit out. Typically,food stations will remain open for 1½ hours -2 hours to assure no hurries or worries hussling to and from the stations . Your wedding planner and staff will help guide your guests to assure good flow
Cocktail Party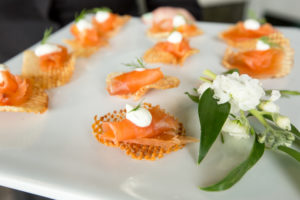 Who should choose it: Duos on a budget. You can offer hors d'oeuvres for less money than a sit-down meal. (Just be sure to keep the party under three hours. If you go longer, the cost difference between the two parties is negligible.) This may also appeal to couples with a 300-plus guest list and second-time-arounders.
Who should avoid it: Brides seeking the spotlight. Cocktail parties tend to skip introductions of the couple, first dances, and dances with parents.
What to ask: The best time to schedule it. An 8 p.m. reception clues in guests to grab a bite before, whereas a 5 p.m. start time signals supper.
Casual Barbeque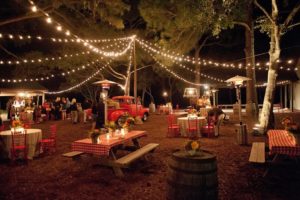 Who should choose it: Couples with close-knit friends and families who would enjoy the informality of a backyard BBQ, a barn, or a park wedding.
Who should avoid it: Control freaks. If your friends are firing up the park grill themselves, burgers may be burned, food may go cold, and wayward Frisbee's might come your way. You could hire a caterer, but staff may be trampling through your kitchen if you host the barbecue at your home.
What to ask: Will the caterer have to bring in a cook tent? Even if you have access to a great gourmet kitchen, it might not be up to catering standards.
Dessert and Sweet Treats
How about a lovely display with your wedding cake complimented by various mini sweet treats, YUM!